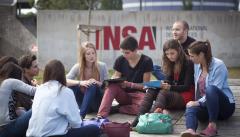 International
WINTER SCHOOL FOR EXCHANGE STUDENTS
Especially designed for exchange students coming for the 2nd semester, this programme will take place from January 22nd to January 31st 2020, and includes 5 hours per day.
The courses allow students who arrive in the middle of the academic year to develop a good level in French, discover their new environment, the INSA Lyon campus, the teaching Departements, Lyon City... It is also a good way for them to integrate swiftly and make friends from all horizons.
Students joining the programme work on two projects according to their level of French, generally between A2 and C1 :
Project 1 : "Achieve your studies at INSA Lyon" (15h)
Projet 2 : "Discover Lyon City" (20h)
Participants are assessed continually to ensure their progress and are provided with 2 ECTS credits.
Programme cost : 84€
To apply, students have to select the winter school in the application form : www.insa-lyon.fr/fr/admission-en-echange