News linked to keywords : «Mechanical Design»
Spécialisés dans la mécanique des structures, le laboratoire GEOMAS confronte ses résultats théoriques à la réalité du terrain. Découverte des moyens mis en place pour récolter des données et anticiper le futur avec le cas de la tour Silex 2 à Lyon.
Quatre étudiants en Génie Civil Urbanisme (GCU) lauréats du challenge international « The Trail » by Vinci. Une compétition internationale sur la thème "Imaginez le monde de la construction de demain !"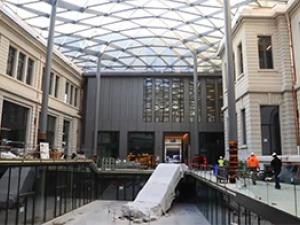 Business Services -
21/12/2017
Michaël Poncet est ingénieur INSA Lyon diplômé en 2005 du département Génie Civil et Urbanisme. Directeur de travaux chez Eiffage Construction, il est en charge de la partie Hôtel 5 étoiles Intercontinental du Grand Hôtel Dieu, premier chantier privé de reconversion de Monument Historique en France.