International Bachelor
Mechanical, Materials and Aerospace Engineering
INSA Lyon, one of France's top engineering universities is running an International Bachelor's programme in Mechanical, Materials and Aerospace Engineering in cooperation with ECAM Lyon and the University of Strathclyde (Glasgow, UK), one of Britain's leading technological universities.
The IBMMAE programme has received accreditation from the French "Commission des Titres d'Ingénieur" and the Ministry of Higher Education to award the national "grade de licence" degree.
Breaking news : INSA Lyon open day
Find out more about the programme in French and English from staff and current students.
Why choose the International Bachelor in Mechanical, Materials and Aerospace Engineering (IBMMAE)?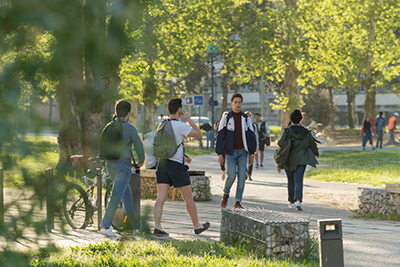 1 - A Bachelor's degree structure corresponds to a recognised standard for undergraduate studies worldwide.
On completion of the 3-year programme, it offers students the possibility of either entering the job market or continuing with further studies.
2 – The IBMMAE provides the opportunity to work on cutting-edge technologies in fast-expanding engineering sectors. Real technical expertise is acquired as of year 1 and mandatory internships and real-world projects favour direct contact with industrial needs rendering students highly employable.
3– The IBMMAE course implements interactive pedagogy focused on personal work and projects, to develop problem-solving techniques and foster quantitative and collaborative skills prized by employers. Classes are taught by internationally recognised experts in the fields of Mechanical, Materials and Aerospace Engineering.
4 – Students enrolled on the IBMMAE will study in 3 leading universities of technology and benefit from some of the highest standards and quality of teaching and research in Europe.
5 – Over the 3 years, students will acquire a truly international profile and gain multi-cultural experience while becoming operational in French and English and possibly a third foreign language.
6 – All IBMMAE Students are guaranteed on-campus accommodation both at INSA Lyon and the University of Strathclyde and have the use of student-union and sports facilities. Lyon and Glasgow are two of the most vibrant and attractive cities in Europe offering all the advantages of large urban centres while giving easy access to the surrounding countryside and mountain regions close by.
7 – The IBMMAE offers an extremely competitive fee structure by international standards.
For the second year running, the student magazine L'Étudiant,
has ranked Lyon as the best French city for the quality of student life.
What are the Educational Objectives of the IBMMAE programme?
The IBMMAE undergraduate Programme is designed to prepare students for continued learning and successful careers in industry, academia and consultancy. Our alumni are expected to be able to:
Apply their engineering knowledge, critical thinking and problem solving skills in a broad range of business fields, including aeronautical industries.

Be directly employable in businesses or pursue graduate education in engineering and technology, as well as other professional careers.

Conduct themselves in a responsible, professional, and ethical manner.

Adapt to multi-cultural, multi-linguistic organizations.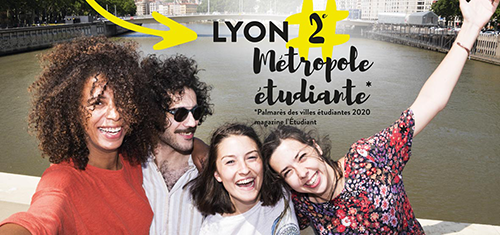 The student magazine L'Étudiant,
has ranked Lyon as the 2nd best French city for the quality of student life (2022).
What is Mechanical, Materials and Aerospace Engineering about?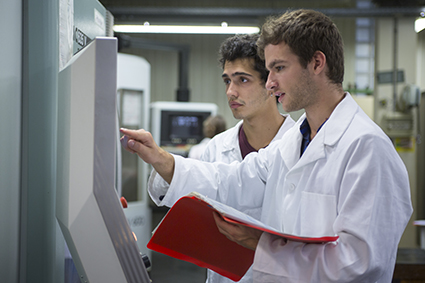 Mechanical and Materials Engineers are recognised for their specialist knowledge and analytical skills in designing and setting up a range of devices, machines, engines and other complex working components. The International Bachelor in Mechanical, Materials and Aerospace Engineering (IBMMAE) is aimed at training engineers who can respond to the needs of traditional industries and meet the challenges arising from new materials, sustainable development and aerospace applications.
The Mechanical and Material Engineering aspect of the course will develop students' knowledge and their capability to create and improve mechanical and mechatronic systems. The core subjects comprise mathematics, mechanics, heat and flow analyses, electrical engineering and mechanical design which will be progressively developed and integrated with professional activities, culminating in final individual and group projects.
The major elements of aircraft and aerospace systems are frequently designed and developed by Mechanical Engineers who specialise in aerospace applications. Students will learn to design components of aircraft engines, control systems, gears and other complex systems which sustain flight. A number of these aero-related topics, such as Aerodynamics, Energetics, Mechanical Transmissions, Lightweight Structures and Materials are also of great interest in wind turbines, land vehicles, sport applications, etc.
One of the objectives of the IBMMAE programme is to develop the students' capability to create and improve systems which depend on the principles in Mechanical Engineering Science. The course includes flight simulation studies along with the design and manufacture of a remote-controlled scaled aircraft at the Mechanical and Aerospace Department of the University of Strathclyde.
INSA Lyon, ECAM Lyon and the University of Strathclyde: centres of excellence in Mechanical, Materials and Aerospace Engineering.
The Mechanical and Material Engineering Departments at INSA Lyon are amongst the very top departments in these fields as reported in international rankings for Engineering Universities* and benefit from extensive and long-term industrial partnerships. INSA Lyon holds several industrial chairs including the SAFRAN INSA-ECAM chair in Innovative Mechanical Transmissions for Aeronautics which supports the IBMMAE programme. The Department of Mechanical & Aerospace Engineering of the University of Strathclyde is consistently rated in the top 10 in the UK. It has pioneered the use of active learning techniques in the interactive classroom, and innovative approaches to teaching design.
*2022 Rankings:
INSA Lyon ranked in the top 51-75 universities worldwide and 2nd in France in Mechanical Engineering (Shanghai Ranking by subject)
INSA Lyon ranked in the top 98 universities worldwide in Mechanical, Aeronautical & Manufacturing Engineering (QS Ranking by subject)
The course is a full-time 3-year programme divided into 6 semesters of 14 weeks with 20-22 contact hours per week in order to give students time to work autonomously (model time-tables can be found here). Between the first and second semesters of year one, 3 weeks will be devoted to Initiation to Professional Communication and Team Projects, which are integral to the syllabus. The course structure is based on Teaching Units comprising several modules.
Over the 3 years of the programme, students are progressively given the opportunity to develop an proactive approach to learning tasks. Emphasis is placed on individual and group project work which, along with assignments and exams, validate the Teaching Units.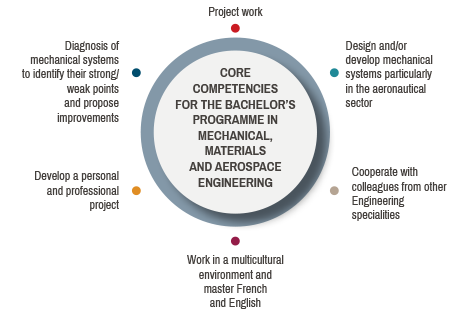 More information:
Model weekly time-tables can be found here.
Mandatory internships
Internships help make career aspirations a tangible reality and provide students with experience and contacts which they need for their future careers. Every student on the Bachelor's programme is therefore required to undertake a minimum of two internships in industry either in France or abroad:
a minimum period of 4-week as a non-skilled worker at the end of the first year (in July and/or August) in order to acquire first-hand experience of industrial realities and company structures,
a minimum of 4 months at the end of year 3, preferably directly related to the final project to develop operational skills and use the knowledge and know-how gained on the IBMMAE programme. This final internship may also provide an interesting employment opportunity directly after graduation.
Based on its extensive network of partner companies in France and abroad, INSA Lyon offers support in finding appropriate internships. It is however recommended that students undertake their own internship research as this is an excellent preparation for entering the job market. To this end, specific professional modules on CVs, job interviews, written reports, oral presentations, etc. are offered to help students find their final internship and write and defend their internship reports.
Public
The Bachelor in Mechanical, Materials and Aerospace Engineering is tailored to English-speaking students of all nationalities who have an interest in Technology, Applied Sciences and Aeronautics. A good level in Mathematics and Physics is a pre-requisite. The entry requirements are:
Language requirements
No minimum French level required.
All students whose first language is not English must provide proof of English language proficiency at level C1 based on external recognised tests (TOEFL, IELTS, etc.). C1 level in the European Common Framework of Reference for Languages corresponds to 'Proficient User'. Some examples of C1 equivalences: Cambridge English Advanced (CAE), IELTS 7-8, TOEFL iBT > 100, TOEIC 880, PTE General Level 4, etc.
Academic requirements
Required subjects with minimum accepted grades for year 1 entry:
A-levels: AAB (Maths A, Physics A)
IB: 32 (with either Maths HL5 or Physics HL5)
French Baccalaureate majoring in Maths / Physics (Maths: 13, Physics: 13)
USA: Strong High School Diploma combined with strong SAT I and II scores and/or APs with grades at 4 or above
India: 75% in all subjects taken at level XII (Maths and Physics are required)
For other qualifications or questions, please contact IBEng©insa-lyon.fr
How to apply
Please download the application form and send it by e-mail to the following addresses: ibmmae@insa-lyon.fr copy to: ibeng@insa-lyon.fr
Fee structure
The International Bachelor's programme in Mechanical, Materials and Aerospace Engineering offers a highly competitive fee structure which is detailed below along with the estimated costs based on a student housed on the INSA Campus. For accommodation/catering costs at the University of Strathclyde (one semester), please refer to the university website at: https://www.strath.ac.uk/finance/student/accommodationfees/
In addition to tuition fees, students will be required to have certain manuals and textbooks at the start of the course. A budget of approximately 200 € annually should be allocated to cover these expenses.
In accordance with INSA regulations, students become liable for payment of the annual tuition fee in full once admission has been confirmed.
Fees and expenses
A degree in Mechanical Engineering provides a passport to interesting, challenging and well-paid careers worldwide. The main areas of employment are in design and manufacture, research and development, management, project engineering and technical support as well as in sales and marketing.
The 3-year IBMMAE programme has been created in response to the need(s):
a) for highly qualified technicians at the Bachelor's level especially in France,
b) of companies actively seeking to recruit professionals who can be operational in multi-cultural/linguistic environments.
c) of the aerospace and aircraft industries which will continue to expand and recruit in the foreseeable future.
Further studies
The International Bachelor's programme in Mechanical, Materials and Aerospace Engineering enables students to enter the job market directly or to continue with further studies. On completion of their degree, students will be awarded 180 ECTS (European Credit Transfer System) credits which give access to a number of Master's Programmes. In particular, subject to their academic performance, students may transfer to i) the 3-year Cycle d'Ingénieur at INSA Lyon or ECAM to obtain a French Diplôme d'Ingénieur or, ii) register on the MSc programme in the Mechanical and Aerospace Department of the University of Strathclyde.
Students from the 2018-2022 cohorts received offers on Master's programmes at the following universities:
Politecnico di Milano, Politecnico di Torino, (Italy), University of Twente, Technical University of Delft (The Netherlands), KTH Stockholm, (Sweden), Aalto (Finland) / Vienna (Austria), KU Leuwen, (Belgium), University of Limerick (Ireland), KU Leuwen, (Belgium), Cranfield University, University of Strathclyde, Imperial College London, University College London, Heriot-Watt University (UK), TU Munich (Germany), Tsing Hua University, Shanghai Jiatong University, (China), TUM/NTU (Singapore), Cornell University (US), University of British Colombia, Concordia University (Canada), CentraleSupélec, ESILV, ESTACA, EPF, ISAE-ENSMA, Institut Polytechnique de Paris, Ecole Centrale Lyon, INSA Lyon (diplôme d'ingénieur), SupAéro (diplôme d'ingénieur and international Master's), ECAM Lyon (diplôme d'ingénieur), ENAC, IPGP, HYBRIA, Grenoble School of Business, EM Lyon, (France).