First and second cycle fees
Academic year 2020-2021
In June 2019, in accordance with its commitments, the Board of Directors of INSA Lyon voted a partial exemption for foreign students coming from a non-E.E.A. country, i.e. those admitted for the first time at INSA Lyon in the 2019-2020 academic year.
For the 2020-2021 academic year, differential registration fees will be required as follows: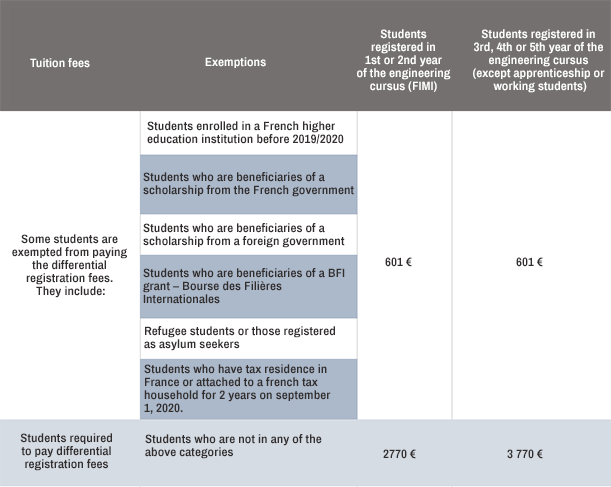 The EEA countries are: Austria, Belgium, Bulgaria, Croatia, Republic of Cyprus, Czech Republic, Denmark, Estonia, Finland, France, Germany, Greece, Hungary, Ireland, Iceland, Italy, Latvia, Lithuania, Liechtenstein, Luxembourg, Malta, the Netherlands, Norway, Poland, Portugal, Romania, Slovakia, Slovenia, Spain, Sweden, Switzerland and the United-Kingdom.
----
Sécurité sociale (French NHS) : Free of charge
Funding studies
Higher education grants.
Research allowances.
Masters grants.
Loans on trust.
Study allowances.
See also