Catering
On the LyonTech-La Doua Campus, INSA Lyon's restaurants prepare and serve breakfasts and meals for students 7 days in 7, 11 months out of 12.
On the Oyonnax Campus, students have access to the self-service restaurant of the nearby Lycée Arbez Carme, next to the Oyonnax campus, at the Crous student rate.
On-site boarding programmes
All students of preparatory level accommodated in INSA Lyon's residences eat in the establishment's restaurants.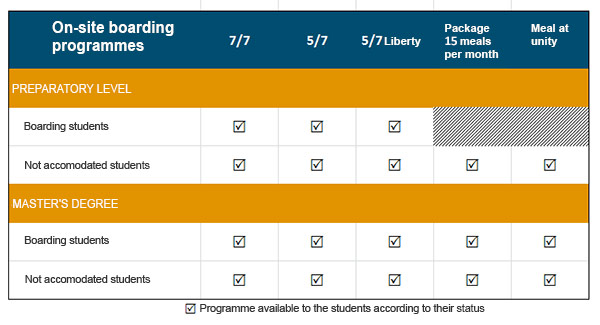 The on-site boarding programmes today allow:
Preparatory Level students staying in halls of residence can choose between 7-day, 5-day (breakfast, lunch and dinner) or 5-day Liberty catering packages
Preparatory Level students not staying in halls of residence can choose from all of the existing options.
Students on Master's courses can take out the package of their choice or buy their meals on an individual basis.
High-level sports students to benefit from restaurant diets adapted to their sporting discipline.
Restaurants
INSA Lyon has several restaurants with specific catering arrangements:
Traditional self-service: RI (INSA Restaurant)
Fast food, breakfast and coffee shop in the afternoon 2pm at 5pm: Le Prévert.
Grill: Le Grillon.
Italian food: L'Olivier.
Point A: Breakfast Building A
Fast food, breakfast and sandwiches: In'SNACK (meal at unity cash payment or CB from 1 €)
Access
Access to the restaurant is given on presentation of the INSA- University of Lyon student card.
This card is valid for the whole period of their studies at INSA Lyon.
A replacement must be paid for. It must never be loaned and any such action may result in sanctions.
If necessary, the inspector is authorized to confiscate INSA Lyon student cards.
Payment
Billing is done on a flat-rate basis each month, calculated on the number of meals to be provided during that period.
For first- and second-year students living in halls of residence, billing starts when the students take up residence and stops when they leave.
In all other cases, the students must inform the Catering Service of the start and end dates.
It is possible to buy single meals or meals in addition to the package:
via the restaurant offices;
by recharging the student card at the terminals provided for this purpose.
via Pop&Pay application
The minimum number of meals when recharging the card is five.
The restaurants are also available for students outside the school.