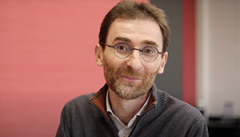 Education
Educating all students in climate-energy issues: INSA Group opens a partnership with The Shift Project NGO
The Shift Project, a think tank recognised for its expertise on climate-energy issues, and that works in favour of a 'post-carbon' economy, will support INSA Group institutions in their project to educate all their students on these issues. Interview with Nicolas Freud, spokesman for the ClimatSup project and pilot of the education development project at INSA Lyon.
What can you tell us about the INSA ClimatSup project, and what will it bring to INSA Lyon education?
INSA Lyon has been in regular contact with The Shift Project since the latter began its work on higher education (see, in particular, the report 'Mobilising higher education for climate', published in March 2019). We could see that we shared the view that all students should be educated on climate-energy issues. We then thought that The Shift Project could help us to conduct our education development project on these topics by providing us with methodological support and expertise on a scientific and technical level. It is this that gave rise to the Climatsup project, now in operation at the INSA Group level, which should help us to develop a coherent education programme on the climate-energy topic, within the more global framework of the education development project outlined by the institution's Board of Directors.
Isn't there a risk in associating with The Shift Project, whose proposals can sometimes appear controversial?
The Shift Project bases its proposals on the diagnosis of the scientific community, which clearly establishes the need to decarbonise human activities in order to limit global warming. It is always guided in its approach by the demand for scientific rigour. It is quite legitimate, however, that its proposals should provoke debate, as the problems to be solved to tackle climate change and achieve energy transition are challenging our habits in all areas. INSA Lyon believes that all its students must be educated on these issues, and must be actors in current and future transformations. Even though these are extremely complex subjects, the engineers we educate can and must contribute to informing debates and decision-making, in particular by providing their scientific and technical expertise (which is essential, for example, so as not to get the order of magnitude wrong when looking for solutions). The experience with The Shift Project will be very interesting to help us move forward on these issues.
INSA Lyon is a driving force for the development of its education, in line with key societal and environmental issues. Is this a strategic priority for the institution?
Yes, absolutely. INSA Lyon has recognised the fact that key societal and environmental issues must play a central role in education. Now that the education policy stage has been completed (with the Board of Directors voting on two framework notes in 2019-20), the school is now entering the more operational phase of building future education models, which will be offered to new students from the start of the 2021 academic year. It is a complex project, but we are happy to be, among the Grandes Ecoles, one of the most involved actors in this transformation, which has become particularly urgent.