Exchange Students
The next recruitment campaign for exchange students coming next academic year 2020-2021, will open in February 2020.
However, you can begin consulting your courses on exchange-student.insa-lyon.fr in order to prepare your learning agreement. Please note that courses may be modified/added prior to the opening of the campaign. Only selections made from February 2020 will be accepted in your registration application.
During your studies, you can come to INSA Lyon for an exchange of one semester or a full academic year. Your stay is governed by an agreement between INSA Lyon and your home university which is either :
a bilateral agreement
an Erasmus agreement
a FITEC agreement (students from Argentinian, Brazilian and Mexican partner universities)
a specific program (ISEP, CREPUQ, GE3, ORA...)
Terms of admission
Your mobility project must be approved and confirmed by your home university.
You must send your complete application file in due time.
Language requirements: level B1 (according to the CEFR) in French is strongly recommended (Europass).
You application must be accepted by a Department of INSA Lyon
Admission process
First you will have to download your application form on the left-side of this page and fill it out. Then join the following documents:
Official transcript of records from the last two years
Curriculum vitae in English or French
Copy of your passport
Cover Letter in French
Language Level Certificate in French or English (if you have one)
Course selection
In order to help you complete your learning agreement, you can try different courses options and make your selection on :
exchange-student.insa-lyon.fr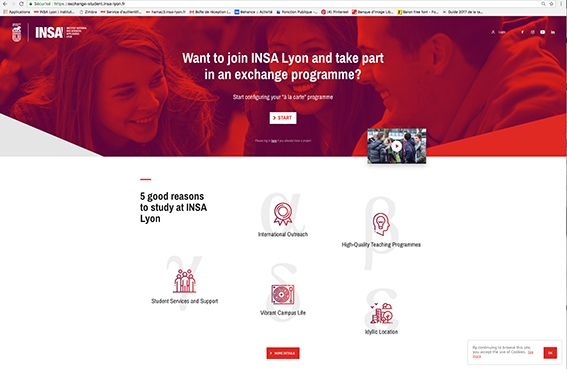 When you have completed your selection, download it in PDF and enclose it with your application form.
Finally, send your complete application file by e-mail to your INSA Lyon contact according to your geographic area (check contact on the left-side of this page). Please constitute a single PDF-file.
Selection
An international selection committee gathers after the campaign to review the applications.