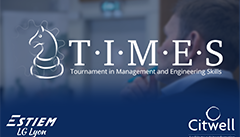 Sciences & Société
T.I.M.E.S Semi-Final
ESTIEM (European Students of Industrial Engineering and Management) est le réseau d'étudiants en Génie Industriel et en Management en Europe, composé de 76 "local groups" répartis dans 26 pays. Le local group de Lyon, basé en Génie Industriel à l'INSA, organise cette année, en partenariat avec Citwell, les demies finales du T.I.M.E.S les mercredi 2 et jeudi 3 février ! Citwell est une entreprise de conseil qui proposera une étude de cas pour l'événement.
Le T.I.M.E.S (Tournament In Management and Engineering Skills) est la plus grande compétition européenne de résolution d'études de cas, opposant des équipes d'étudiants de toute l'Europe.
Cette compétition permet aux étudiants de développer des compétences analytiques et rhétoriques à travers leurs présentations et en recevant un retour de professionnels. Après l'organisation des "Local Qualifications" en janvier avec l'entreprise Stäubli, qui ont permis de sélectionner l'équipe représentant l'INSA Lyon pour la suite du concours (félicitations à Charles Baguet, Alizé Bosio et Antoine Fargeon), le LG Lyon organise une des 4 demies-finales de la compétition.
Pour des raisons sanitaires, l'évènement se déroulera en ligne. 8 équipes de 4 étudiants européens participeront à ce concours : les équipes de Eindhoven, St-Petersburg, Ankara-Bilkent, Lappeenranta, Groningen, Istanbul-Yildiz, Trondheim, Stockholm.
Pour cet événement, Citwell, cabinet de conseil en management, fondé en 2004, spécialiste de la Supply Chain, des Opérations, du Service Clients et de la Conduite du Changement accompagnant les entreprises dans leurs projets de transformation proposera l'étude de cas et fera partie du jury départageant les candidats.
Additional informations
INSA Lyon Génie Industriel
Keywords (tags)