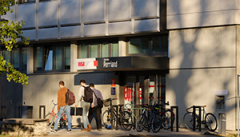 INSA LYON
Back to school in 2020-2021: INSA Lyon takes action
16/09/2020
In light of the current health crisis, INSA Lyon has established a range of strict rules and procedures for the new 2020-2021 academic year. These measures seek, first and foremost, to safeguard the health of our community, while ensuring our students can still continue their courses and enjoy campus life under the best conditions possible.
INSA Lyon's management is working closely with the local and national authorities in order to implement the government's directives and take the necessary steps as the health situation evolves.
It is compulsory to wear a mask on our two campuses as well as inside and outside buildings. In all cases, we must maintain social distancing of at least one metre. These obligations apply to all staff and students, without exception. Any person not part of the faculty or student body entering one of our campuses must follow the same rules and have their own mask.
At this moment, the return to classes at INSA Lyon has been organised as follows:
- most lectures will be held remotely,
- most tutorials will be held remotely,
- most lab classes will be held in a lab-setting.
Since the start of the health crisis, INSA Lyon has been pleased to count on the assistance of its Foundation in offering support and financial aid to students during these exceptional times.