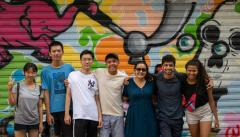 International
The best welcome for our exchange students
Twenty international students participated in the French Winter School before starting their semester at INSA Lyon. In total, about sixty exchange students have enrolled for the second semester and are spread accross the 9 engineering departments.

For the second year in a row, INSA Lyon offered international students the possibility to take part in a French winter school during 10 days, before the beginning of the 2nd semester. The students attended classes of French as a Foreign Language (85 hours) and enjoyed social activities (city rally in Lyon, French Evening…) at a very attractive price (100€ max. classes, accommodation and activities included). This programme allows them to adapt to their new environment but also to earn 2 ECTS credits.

This year and for the first time, INSA Lyon implemented a buddy system so that permanent INSA students greet 2nd semester exchange students upon their arrival. On February 10th, the International Relations Office organised a welcome session in the presence of the President Pr. Frédéric Fotiadu, in order to let the newcomers meet and chat with representatives of our Institution: from the registrar's office, the International Academic Advisors within the departments, but also the Sports Centre, the Preventive Medecine and some students' associations (BdE, BEST Lyon, Kwanza, Oenology Club, the junior entreprise ETIC INSA).
Additional informations
Keywords (tags)