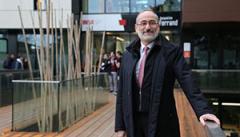 INSA LYON
Frédéric Fotiadu: INSA Lyon's new director
It's official: the French Minister of Higher Education, Research and Innovation appointed Frédéric Fotiadu director of INSA Lyon on 24 October on the recommendation of the board of directors. After 10 years at the helm of École Centrale Marseille, this nearly 54-year-old chemical engineer by training, attached to the French engineering model, took up the position on 1 November with humility, conviction and determination. Let's meet him now.
What prompted you to apply?
INSA Lyon is a unique institution with a historical heritage imbued with incredibly modern ideals and values. It was born from a visionary idea and the conviction that young people must be met where they are, in all their diversity, without constricting them in an education that is only be scientific and technical, but by nurturing them with a humanist commitment. I believe this vision held by the founding fathers is even more necessary today than it was in their time. And I feel that I am particularly aligned with this philosophy which consists of training humanist engineers who are conscious of their responsibilities and sufficiently prepared with the appropriate skills to assume those responsibilities.
INSA makes a great impact on the surrounding areas and has a significant ability to contribute to development at its site. It also has a role to play on the national level within the INSA network and among other French engineering schools. Our major reach can strengthen all of these schools. I was at a moment in my career where I was ready to take on a new, ambitious challenge. The opportunity of participating in constructing this site is a particularly inspiring project because I am deeply convinced of the importance of engineering schools and universities working together within regional frameworks, while at the same time preserving what makes INSA Lyon unique.
Among everything you have done in your career, what project are you most proud of?
To nurture great ambitions, a school must be built as a community unified around a shared identity and an inclusive policy agenda that brings together staff, students, graduates and partners. This is what distinguishes engineering schools from other university institutions: the power of feeling one belongs to a community founded on values, experience and destiny. During my career, I feel that I contributed to the emergence of a collective in a young institution where it was a question of forging a community. And seeing this transgenerational collective come to life and become visible around the world has been a great satisfaction to me.
I have discovered this spirit here with the INSA Lyon community in an institution that is more extensive and mature. I see the strength of a collective rich with talent and values brought together. The prospective approach the establishment has taken over the past several months is a perfect expression of this shared ambition. I hope to be able to contribute to strengthening these already significant connections. This community is centred around a brand whose value we must continue to protect and develop while using it in the service of a site and a network in a dynamic and extended community.
What future challenges does INSA face?
INSA Lyon chose not to join the target university as its engineering school, while at the same time confirming our desire to contribute to IDEX's success. Therefore, the school is at a pivotal moment. The short term challenge is to once again become involved in the site project by contemplating a new form of engagement. This is an excellent opportunity to rethink INSA's role with our academic partners and to bring to life a major education and research hub for Lyon Saint-Étienne that is visible and attractive on European and international levels.
There is also a challenge on the INSA Group level, which is to grow an institution that is identifiable by its values, its model and its brand and to make this network an attractive, well-known and prosperous worldwide operator. This system promotes the model of French-style engineers who are research-based and future-focused. And I plan to make this model prosper in a world that increasingly needs engineers to respond to climate and societal issues, in particular. To make it a global player in technology education. Now we need to convince our ministerial supervisors and our partners of why they should support us in constructing this great system. Not only does it not contradict the site's policies, it will do nothing but contribute to their success due to the positioning and local impact of each INSA in its territory.
Moreover, engineering schools and INSA Lyon in particular have a significant role to play in tackling the world's great challenges, the foremost of which are climate challenges. We must set ourselves the objective of educating the women and men who will be able to create new solutions, train those who will transform companies and our economic systems, educate enlightened citizens who must be able to make themselves understood and who must commit themselves to changing society. To conquer all of these challenges, INSA Lyon must undertake our own transformation and change our organisation, tools, perspectives and role in relationship to our partners. I have set to work on this, while maintaining open communication with those around me.