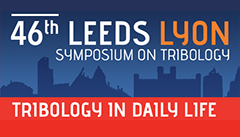 Sciences & Société
46th LEEDS-LYON Symposium on Tribology 2019
This Leeds-Lyon 2019 will be dedicated to tribology in daily life
Tribology includes the themes of lubrication, friction and wear. We are first inclined to think tribology in the context of industrial applications but lose sight of the myriad of ways it affects our daily lives.
This Leeds-Lyon 2019 will be dedicated to tribology in daily life. Contributions on tribological issues we experience every day, whether related to our personal, leisure or professional activity, are requested. 
In many cases, advances in traditional tribology improve these daily activities, and we welcome presentations in this area as well.
Additional informations
Valpré 1 chemin de Chalin, 69130 Ecully, France.
Keywords (tags)