International
"MY INNOV@INSA EXPERIENCE" by Gur Sevak Singh, student at NTU (Singapore)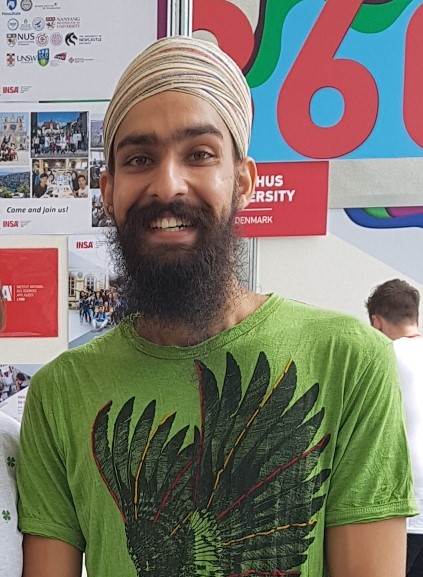 "The INNOV@ INSA Lyon 2018 summer exchange program had been an amazing experience, one that I will always treasure and look back at with immense pleasure!
The program was excellently planned and executed by the international team at INSA. The program covered many modules on innovation and entrepreneurship, such as: project management, marketing, product design and development as well as entrepreneurship ecosystems. The modules were very well covered and arranged in such a way that whatever learned in one module could be applied in the other modules.
A part from the theoretical aspect of innovation, the teachers at INSA also provided us with insight into life from the French perspective, with the many cross cultural lessons by the cheerful Mairi Beaton and socio history lessons by the knowledgeable Yan Sayegh. We were also given French language lessons to help us complete our tasks which would include surveying and interacting with locals.
In addition to the lessons at INSA, the team went out of their way to plan many fun activities to allow us to experience as much about the French culture as possible. We were given a lovely tour of down town Lyon and Vieux Lyon by some of our teachers as well as a few of the local students. There were also a number of trips planned for us to sightsee and enjoy the wonderful sceneries in France, near Lyon. We spent a full day at the town of Annecy, a picturesque place full of history and colours with unforgettable views by the lake. On another weekend, we also visited Chamonix where we had a breath-taking view of the Alps and the iconic Mont Blanc, and spent the day in the town enjoying local delights and a little shopping.
The program was also structured allowing us to do sightseeing of our own as well. We managed to squeeze in a few short trips to Geneva, Cassis, and Marseilles, and a road trip that took us through the scenic roads of Gap.
In the short while I spent in Lyon with INSA, I've fallen in love with the city, the people and the culture and definitely with INSA. I have made lifelong friendships from all over the world and memories to smile back upon. It was indeed one of my better decisions to choose this as my summer exchange. Through the summer program at INSA, I have learn invaluable notions that would help me in in my professional career as well as my personal life."