Objectif développement durable 5 : Égalité entre les sexes
INSA Lyon has been committed to the issues of gender diversity and accessibility since its creation and considers gender equality to be a major focus of its institutional strategy, "Ambitions 2030", by placing it at the heart of its social transition project.
As such, a gender equality master plan with an associated action plan has been drawn up to guarantee greater equality for all. INSA Lyon is an exception in the French higher education landscape in terms of its attractiveness to women, with nearly 47% of first-year students compared to an average of 28% in the Grandes Ecoles, thanks to the many recruitment initiatives carried out to promote access to engineering studies for all.
This central theme for INSA Lyon, led by the Gaston Berger Institute, is approached from several angles: from attractiveness to support, from gender diversity within its specialties to the training of its students, as well as preparation for professional integration and career development. These issues are being addressed in the context of an institutional Chair in Gender Equality, which the main objective is to develop INSA Lyon's thinking and actions based on gender studies.
Actualités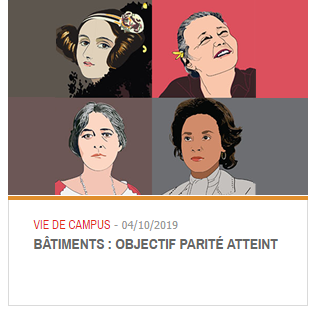 Communiqués de presse
Égalité entre les femmes et les hommes - 22/04/2021.
L'Institut Open Diplomacy mobilise 14 membres du gouvernement à travers tout le territoire pour préparer le sommet d'ONU Femmes présidé par la France en juin - 08/03/2021.
Les femmes de sciences donnent leurs noms aux bâtiments du campus de l'INSA Lyon - 08/03/2019.
Évènements
Numérique, en avant toutes ! - Du 9 au 19 mars 2020.
15 jours d'événements autour de la présence des femmes dans l'informatique et le numérique.
Villes et genres : changements de regards sur le partage de l'espace ? - 22/11/2019.
ÉVIDENCES 2019 Lumière sur les Hommes qui s'engagent pour la mixité ! - 12/11/2019.
Journée sur l'égalité professionnelle dans l'Enseignement supérieur et la Recherche 2019 - 24/06/2019.
Table-ronde et ateliers : L'INSA Lyon, une école mobilisée pour l'égalité - 14/03/2019.
Genre.. on en parle, une série d'évènements portée par l'Institut Gaston Berger.
Podcast
Magali Anderson, la vice-présidente aux multiples combats : les femmes et l'impact environnemental de l'industrie du ciment
Sur le web
L'INSA Lyon s'engage pour l'égalité femmes-hommes en signant une tribune dans les colonnes du Monde - 06/03/2021.
L'association étudiante de l'INSA Lyon, Les Sang-Culottes sont lauréates des Trophées de l'égalité - 28/12/2020.