Innov@insa - may - june
FROM MAY 18 TO JUNE 15 2021
Acquire valuable experience in Europe while getting 6-US / 12 ECTS credits
Courses
Students are asked to choose between track 1 or 2. Track 3 is compulsory.
1. Connected Devices and Smart Devices - 45 hrs. lectures
Prerequisites: algorithmics and any programming language
Introduction to the Internet of Things | case study based course
Smart and Assistive Environment Project
2. Management and Innovation in Europe - 45 hrs. lectures
Introduction to Project Management of Innovative Products and Services
Economics and Management of Innovation in Europe
Essential Skills of Entrepreneurs in Innovation-driven Start-ups
3. French Language, Cross Cultural Communication, Industry and Society - 45 hrs. lectures
Introduction to French Language and Culture
Developing Intercultural Competence
Industry and Society
Activities
Guided visit of Lyon
Day trip to Annecy, the Venice of the Alps
Day trip to Tain L'Hermitage and the "Cité du Chocolat"
Cooking activity
Wine and cheese tasting
Share a dinner with locals
Dinner in a "bouchon lyonnais", a typical restaurant
2021 schedule will be available very soon.
Targeted Students
All Science and Engineering students, undergraduate and graduate students
How to apply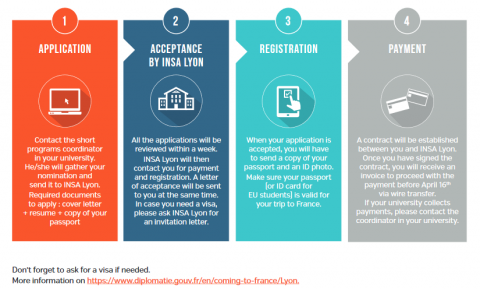 They trust this programme