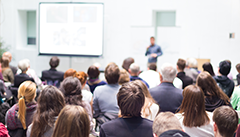 Sciences & Société
Soutenance de l'Habilitation à Diriger des Recherches en sciences : Sébastien Livi
Ionic liquids in polymers : a forestate of future materials?
Maître de Conférences : Sébastien Livi
Laboratoire INSA : Ingénierie des Matériaux Polymères (IMP)
Rapporteurs :
Professeur Roberto J.J Williams
Professeur David Mecerreyes
Dr Miroslava Duskova-Smrckova
Jury :  
Professeur Roberto J.J Williams (Argentine)
Professeur David Mecerreyes (Espagne)
Dr Miroslava Duskova-Smrckova (République Tchèque)
Professeur Bruno Andrioletti (UCBL)
Professeur Jannick Duchet-Rumeau (INSA)
Professeur Jean-François Gérard (INSA)
Due to their outstanding properties such as high optical transparency, high electrical resistance, high thermal insulation, good thermo-mechanical properties and dimensional stability, epoxy networks represent important thermosetting polymeric materials. In fact, they are widely used in industry as adhesives, paints and coatings, electrical, and electronic applications as well as composite matrix for automotive and aerospace applications. Epoxy networks are issue from epoxy prepolymers composed of two-four oxirane rings leading to a polyaddition polymerization with hardeners (amines, phenols, isocyanates or acids) or a chain homopolymerization reaction in the presence of initiators as tertiary amines, imidazoles or ammonium salts. However, the innovation in this area has reached a certain technological limit. Thus, significant R&D resources have been devoted for designing innovative (multi)functional- dedicated polymer networks and ultimately finding solutions for a sustainable future. Over the past few years, a new and innovative technology has emerged producing a new generation of thermosetting polymers with unprecedented improvements in their physical properties. The concept of 'function through structural design' by using unreactive or reactive ionic liquids (ILs) as functional building blocks is one of the key issues to raise this challenge. The aim of this review is to flag up the potential of this novel class of ionic compounds describing their effectiveness as well as vulnerabilities in the field of epoxy thermosets.